A Video Streaming platform like no other
We will provide you with a dedicated Transcoding Engine so you can take your Stream to the next level. Use it to Live Broadcast, embed it on a website, share it on social networks or use it as part of a MUX (see Cloud Muxing to inject Streams in DVB Networks or even MPTS Headends).
Your INPUT source
Our platform will offer you a RTMP URL to which you can send your Video Live Stream from your Broadcasting Software, your Camera or HDMI encoder. You can upload it in SD, HD, FULL HD and even 4K. The better the quality of the upload, the more options you will have when configuring your OUTPUT settings.
Set a Background image layer (Multilayered Streaming)
This is an optional yet powerfull feature which will allow you to upload a background image for your Stream. Should your "source" feed fail for whatever reason, the broadcast will not be interrupted as the stream will continue broadcasting with your Background image. This image could be your corporate identity logo, a message, a picture, the name of the establishment in which your Stream is being viewed etc. This is a particularly handy for those who are planning to use the output stream in the Cloud Mux or MPTS Muxing Engine.
Set & Manage information/advertising Banner layers (Multilayered Streaming)
This is an optional yet revolutionary feature which will empower you to do things with your Stream that were unthinkable until now. Design & Upload one or more banner images which match the width of your Output Stream, and configure them to "appear" at set durations and intervals. These banners are "fused" into your Stream during the transcoding process so your Output Stream will broadcast the banners as though they were always there. This is a tool that can serve for digital signage purposes or a delivery mechanism for information. It is also a powerful digital advertising monetization tool for "YouTubers", "Gamers" and users of the Twitch platform.
Your OUTPUT as you want it and ready to Broadcast!
You will be able to configure your Stream Output settings just as you need them to be. Select Video Bitrate, Video Resolution and even the Aspect Ratio. The Transcoding Engine will then provide you with the industry standard .m3u8 (H.264 MPEG4/AAC Audio) Output URL. You will be able to use this URL directly in YouTube, Twitch or in the CDN of your choice. The URL will also be compatible for use with the Muxing Encoder so that your Stream can be converted into DVB-T format using the Micro ZMS IPTV to DVB-T Digital Headend and is also compatible with the MPTS Muxing Engine for IPTV Headends.
Multilayered Streaming - Example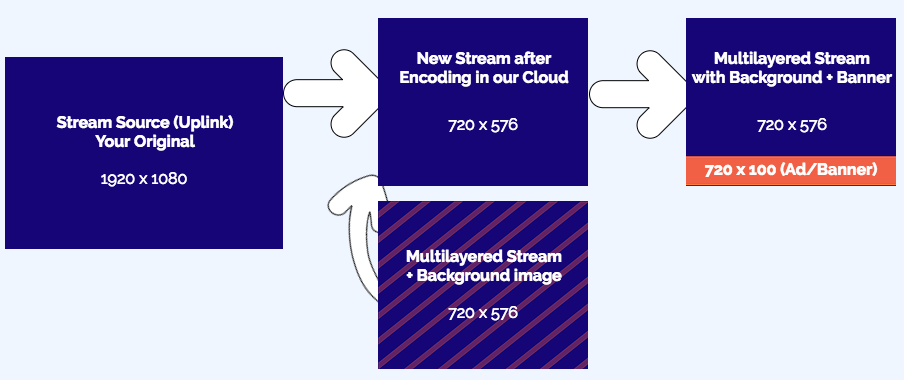 Example: Source= 1920x1080 with a desired Output of 720x576 with Background & Banners.
Background Layer: For each Output Stream you can design & upload a completely personalised Background Image. This Background image will only appear if your Input Stream fails for any reason, and viewers will see your Background instead of a black screen or an error message. The size of the Background Image MUST be identical to that of the Output Stream itself. (Example: if your chosen Output Resolution is 720 x 576, then the Background must be the same size).

Banner Layer: You will be able to upload, schedule & manage Information / Advertising Banners as a 3rd Layer. Our technology will "fuse" these banners into your Output Live Stream so cannot be blocked or removed. You will be able to add up to 4 banners/hour with a duration of up to 10 seconds and you will be able to do so for every Output Stream that you generate.
The width of the Banner MUST match that of the Output Resolution (Example: if Output Resolution is 720 x 576, then the width of the Banner must be 720. The maximum height is 100).

Access the Zapelin Cloud now, and don´t pay until you assign a Transcoding Engine!
Feel free to register and login to our platform. You will be able to setup your input source, configure the background image, the banners and the output settings. You will only pay once you contract the Transcoding Engine that will set itself up within 3 minutes and start processing your Stream!
Pricing - You will be able to select the most suitable Transcoding Engine for your needs once inside the platform.
 

HD Engine

FULL HD Engine

4K Engine

Streams

1
 1
1

Resolution I/O (Up To)

HD (1280 x 720)
FULL HD (1920 x 1080)
4K (3840 x 2160)

Engine Type

CX2
 CX4
CX8

Bandwidth Included

 10TB
 

 10TB

 10TB




Background Image Feature

Included

Included




Included




Info/Ad Banner Feature

 Included
 

 Included

 

 Included

 
 
 
 
 
 

50€/month

100€/month

200€/month